August Emil Andersson (#12) 1954
In Harrys (#162) large semiordered collection of letters we (#162A, #1622) found some from Gus (#12) to his sister Alma (#13), written in connection with Harrys visit to USA 1954. They also describe a trip to Canada which Al (#17), Phoebe (#17A), Eldon(#173), Wanda (#173A) and children (Arlin #1731 Doreen #1732) took to Canada the same year in order to visit Gus and also John (#112) and Myrtle ("Doll" #112A). The trip is also described in a Christmas card from Phoebe and Al(bert). The photo is of Al, Alma and Gus and is taken some years earlier (1947). The boy is Almas grandchild George (#1332).
/Lennart (#1622)
Penticton July 7th 54
Dear Sis your letter received yesterday and I will try a few lines before I forget. You sure had a good time and I wish I could have been there. I guess Harry did not stay long after he got his business transacted. I had a letter from Doll, Johns wife and she said they had a letter from Sweden saying Johns mother was in poor health. After one is past 80 any thing can happen, that is why I did not want to go back with Harry I may never have found my way back. I feel good enough but feel best at home. I lost one of my good neighbors today they are moving to Spokane they were first class and I did not like to see them go but such is life the best of friends must parth.
We finally got summer here it was 88 here today and that is warm enough but there is a nice brice so I am comfortable. When you write to George do you write swenska or English. I wrote to him a couple of weeks ago but I wrote english I guess he had to wait till Harry got home to read it. I am glad the folks are coming and I wish you could come along. I have planned to go to Calgary and Drumheller the first of September I think you said they would be here in August. If I could write swenska I would write home to Alfred and all of them but I think in english and the first thing I know I don't know anything.
Wishing you the best I am your old brother Gus
---
Penticton July 26th 54
Dear Sis just a few lines to let you know I had a letter from Al and they are coming. Al and Phobe Eldon & Wanda and the two children. They were going to leave home yesterday and take it easy for the kiddies. They are taking a trailer I wish you had come too. Poebe wrote the letter, said they would be at my place in about two weeks. They are going to wisit John and Doll first and then come to my place. It will be nice to see them but I wish you could have come too. It is warming up here but not to hot, just nice. I am feeling good enough but am getting older all the time. I am thinking of going to the old folks home but can't make up my mind, that would really be the best place for me. This is all for now
Wishing you both the best of every thing your brother Gus
---
Addendum, from a Christmas card from Phoebe and Albert 1954:
Harry and Wera,
Too bad we are so busy we don't take time to write. Ever since June thought I would.
In Aug. Eldon's family and we took a four weeks trip to Canada, sightseeing both ways. Went as far as Van Couver B.C. We were so glad to have a visit with John, Myrtle and their family. Also had a nice visit with Gus. He has a nice home and so many nice fruit trees on his city lot. Peaches, apricots, pears and grapes. We are spending Christmas with Eldon and plan to go to Moline too
May Christmas and the New Year bring you many blessings
Albert & Phoebe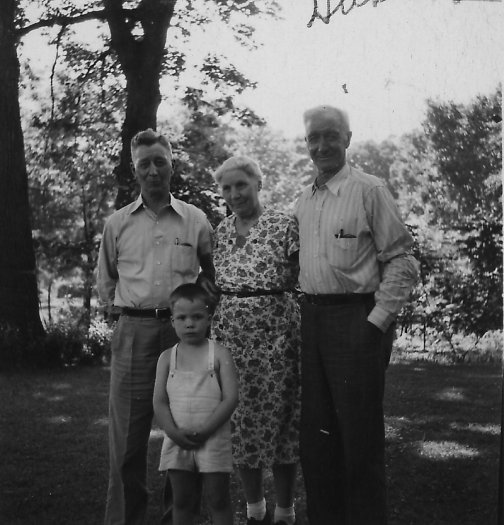 Albert (#17), Alma (#13) and August (#12) with George (#1332).
---